Coming Out Week 2004 at Oakland University
Film: "The Experiment: Gay and Straight"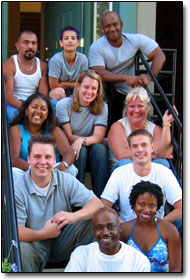 The Center for Student Activities, the S.A.F.E. On Campus program, and the Triangle Foundation proudly present, as part of Coming Out Week 2004 at Oakland University,

The Experiment: Gay and Straight"
Wednesday, October 6, 2004
6 PM, Student Lounge, Kresge Library (campus map)
Featured for the first time at the 2004 Philadelphia Gay and Lesbian Film Festival, this film "chronicles the lives of ten Chicago-area strangers of varied ages, backgrounds, ethnicities and prejudices during a week-long period in which they live together inside a Chicago home. Five are gay, and five are straight; they agree to leave behind their jobs and their families, and to cut themselves off entirely from the outside world as they work toward one intended goal: to help bridge the gap and forge a better understanding between America's gay and straight communities."
Be the first to view this film in Michigan while enjoying refreshments and discussion. This event is free and open to the public. For more information, call (248) 370-2400 or e-mail crampton@oakland.edu.
---
Information about The Experiment:
Official Fox Promotional Web Site for The Experiment
AfterEllen.com review of The Experiment (by Kris Scott Marti, June 2004)
Access to full text resources from off campus is limited to current Oakland students, staff, and faculty.