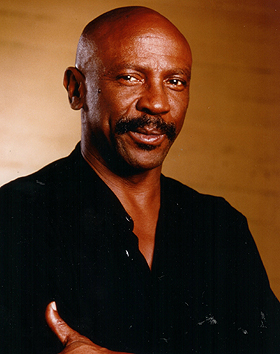 Winner of an Emmy for his portrayal of Fiddler in Roots, an Oscar for Best Supporting Actor in An Officer and a Gentleman, and a Golden Globe Award for his role in The Josephine Baker Story, Lou Gossett, Jr. is also an activist, producer, and director. He is an alumnus of the Boys and Girls Clubs of America and has supported and worked with the organization for many years. A national spokesperson for CARE, Gossett worked throughout the mid-1990s to raise social awareness and help end hunger and poverty among children. He also is founder of the Eracism Foundation which focuses on eradicating racism and social ignorance while promoting tolerance and cultural awareness with children.

19th Annual Keeper of the Dream Celebration
MARTIN LUTHER KING, JR. DAY
Monday, January 17, 2011
11:30 a.m.--Scholarship Awards Presentation
followed by Keynote Address by Lou Gossett, Jr.
Oakland Center Banquet Rooms
Full-Text Articles about Lou Gossett:*
Stone, Judy. "'Did We Always Eat Watermelon?'; about Lou Gossett." New York Times, (August 30, 1970), p. 81
Klemesrud, Judy. "Earning Sergeant's Stripes for a Movie Role." New York Times, (July 25, 1982), p. CS1.
Collins, Glenn. "Lou Gossett Jr. Battles the Hollywood Stereotype." New York Times, (February 19, 1989), p. H33.
Christian, Margena A. Louis Gossett Jr. [an interview]." Ebony, 65.8 (June 2010), p. 54-55.
Svetky, Benjamin. "Roots [excerpts from conversation with Gossett, LeVar Burton, and Ben Vereen]." Entertainment Weekly, no. 1125/1126 (October 22-29, 2010) p. 74-78.
Books and DVDs at Kresge Library featuring Lou Gossett:
Gossett, Louis. An Actor and a Gentleman. Hoboken, N.J.: John Wiley, 2010.
Roots [TV miniseries, VHS recording].
An Officer and A Gentleman [feature film, DVD].
Further information on freely available web sites:
Eracism Foundation
Gossett Filmography on IMDb
OU News Archive article on Gossett
*Access to full text resources from off campus is limited to current Oakland students, staff, and faculty.
For more information on the Keeper of the Dream presentation, visit www.oakland.edu/kod.
For more information on the African American Celebration 2011, visit www.oakland.edu/aacm.