Author David Callahan: Thursday January 17th, 2008
David Callahan, author of The Cheating Culture: Why More Americans Are Doing Wrong
to Get Ahead, will speak at Oakland University on Thursday, January 17, 2008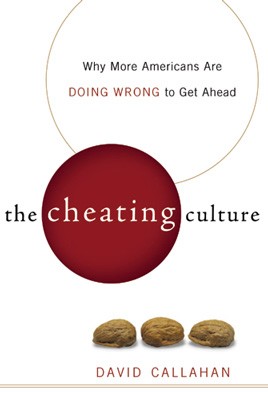 .

Callahan will speak Thursday, January 17, 2008 at 3:00pm in the Banquet Rooms of the Oakland Center. This event is free and open to the public, first come, first serve, with a seating capacity of 600. His presentation will be followed by a book-signing reception.
The presentation will focus on why Americans are breaking the rules to get ahead and his analysis of the alarming state of ethics in America. He will also touch on why cheating has soared among students, looking at recent trends and explanations, as well as providing proven strategies for educators and students for promoting academic integrity.

David Callahan's visit to Oakland University is sponsored by the following departments and schools: Academic Affairs, Athletics, Center for Student Activities, College of Arts & Sciences, Dean of Students Office, Graduate Education, Kresge Library, Oakland University Student Congress, Rhetoric, Communication & Journalism, Rhetoric Faculty, School of Health Sciences, School of Nursing, School of Education and Human Services, Student Affairs, Undergraduate Education, and University Housing.
---
Kresge Library Plagiarism Resources:
Plagiarism Tutorial
Plagiarism Resources for Faculty
External Websites:
The Cheating Culture
Selected Articles by David Callahan:
Cheating Our Way to the Top, Op-ed. San Francisco Chronicle, December 5, 2004.

Rational Cheating: Everyone's Doing It, Article. Journal of Forensic Accounting, July - December 2004.

What Ownership Society,Op-ed. Christian Science Monitor, September 20, 2004.

Candidates Talk a Lot About Values, Not Enough About Ethics, Op-ed. Tallahassee Democrat, August 19, 2004.
Other books at Kresge Library by David Callahan
Between two worlds : realism, idealism, and American foreign policy after the cold war
Unwinnable wars : American power and ethnic conflict
Books at Kresge Library about cheating & deception:
Bowyer, J. Barton. Cheating: deception in war & magic, games & sports, sex & religion, business & con games
Rue, Loyal D. By the grace of guile : the role of deception in natural history and human affairs /
Barnes, J.A. A pack of lies: towards a sociology of lying
Cizek, Gregory J. Cheating on tests: how to do it, detect it, and prevent it
Created on1/04/08 by / Last updated on 5/1/19 by