Diversity at OU: faculty
1965: Diversity and Inclusiveness Leadership: Dr. Manuel H. Pierson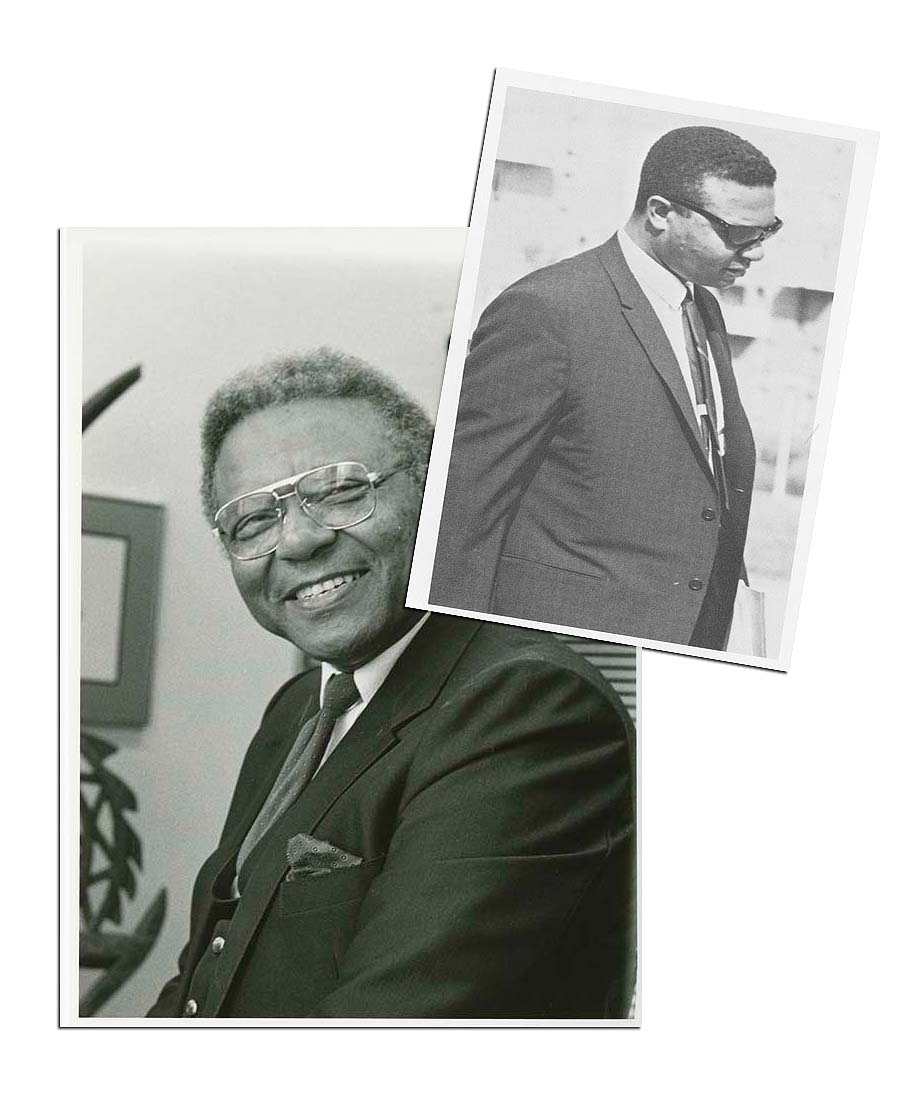 A founding father of OU diversity efforts, Dr. Manuel H. Pierson begins a 28 year mission to promote diversity and equal opportunity for students, staff, and faculty. During his tenures as Associate Dean of Students and Director of Special Projects, Associate Dean of Student Services, and Assistant Vice President, Dr. Pierson leads many diversity and equal opportunity initiatives, including Upward Bound and Project 20.
Dr. Pierson dies on February 13, 2006.  The University holds a memorial on March 16th.  His colleagues and friends recall his achievements during the 14th Annual Keeper of the Dream Banquet at OU.  Dr Pierson's pioneering spirit lives on in Oakland's continuing mission of diversity and inclusiveness.
Image: Oakland University Archives
---
1969: Ad Hoc Committee on women's rights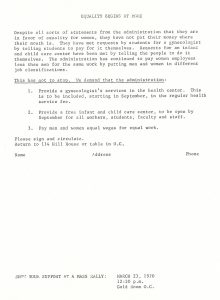 Document source: Women's Rights, Ad Hoc Committee, 1969, vertical file, Oakland University Archives
In 1969, Oakland female faculty created an Ad Hoc Committee to discuss women's rights on campus. Some of the key points they brought up were the need for a university subsidized child care center, gynecological services in the health center, and equal wages for equal work. A survey was completed in December of 1969, revealing statistics about the university population. Out of 301 faculty, only 49 of them were female, and out of 64 marked as professors, only two of them were female.  In addition, while 39% of male faculty members were tenured, only 10% of female faculty were.
---
1969: Gender Inequality and Women's Rights at OU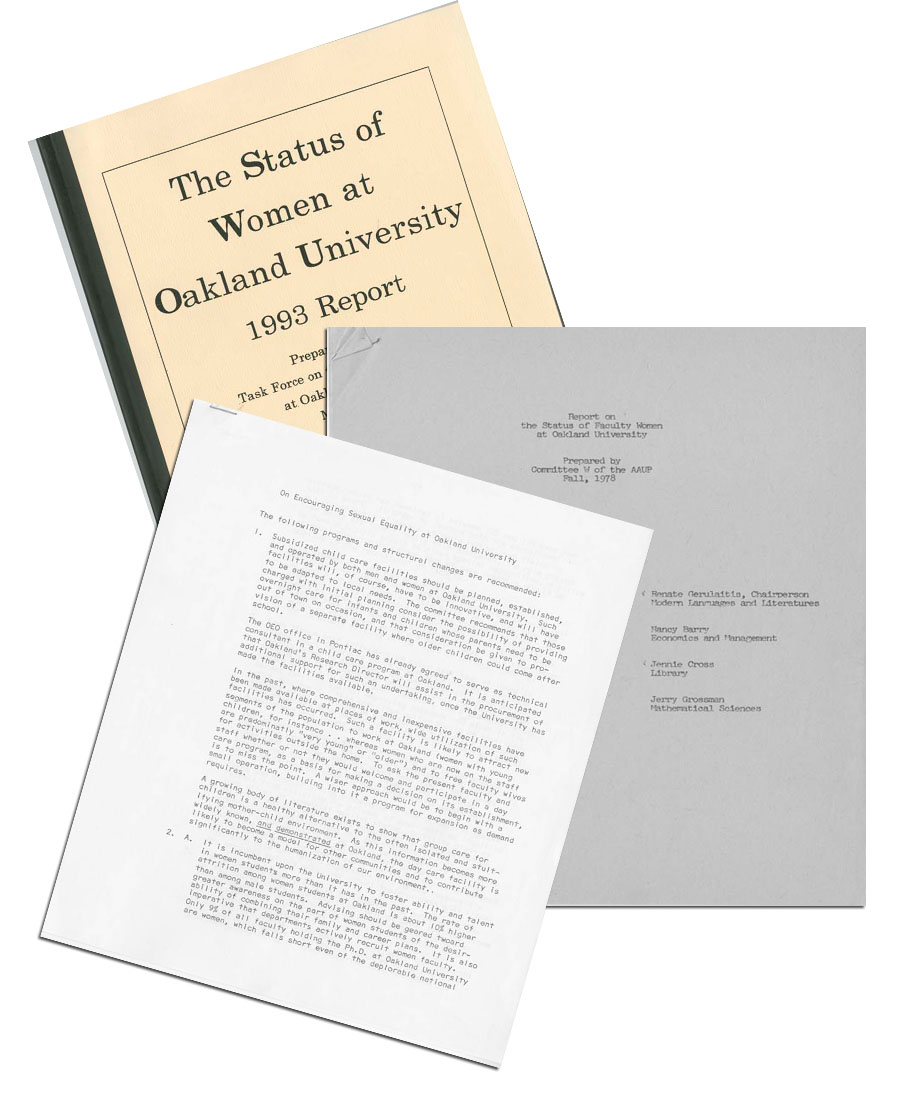 Like its peers, Oakland University has struggled with gender inequality.  During the last half-century, the University has produced numerous reports that analyze pay and promotion gaps between male and female faculty and staff. These reports also describe differential achievement levels and opportunities between male and female students. In 1969, the Women Right's Committee produced "On Encouraging Sexual Equality at Oakland University," a five page document that recommended programmatic and structural changes that would facilitate a more welcoming environment for female students, staff, and faculty.  In 1971, the Oakland chapter of the American Association of University Professors produced "Report of the Status of Women at Oakland". This report was updated in 1978. In 1993, the Task Force on the Status of Women at Oakland University issued its own report. Together, these reports illustrate a history of challenges and successes for women at OU.
Image source: Oakland University Archives
---
1974: Afro-American Studies Program
OU starts the Afro-American Studies Program, a concentration to "help students see the history, life, and culture of Afro-Americans from the perspectives of several different academic disciplines. In the memo below, Professor De Witt S. Dykes explains that the program, which requires 28 credits, is suitable to a wide range of students. Afro-Americans Studies (later combined with  African Studies Program and  renamed African and African American Studies) is  currently a
minor concentration
in the
International Studies Program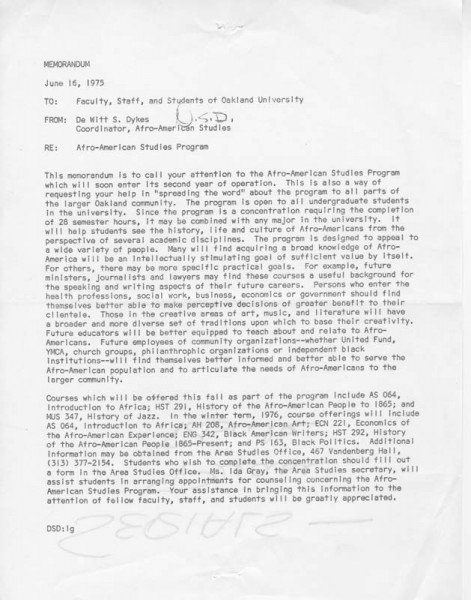 .
Image: Oakland University Archives
---
1981: Black Profiles Booklet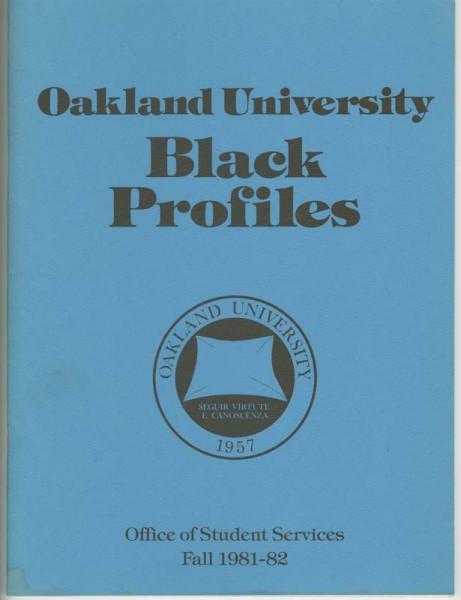 Dean of Students Manuel H. Pierson approves the production of "Oakland University Black Profiles," a booklet of OU African American student leaders, faculty, and staff. Distributed on October 27, 1981, this publication was compiled to facilitate solidarity and academic success within the OU African American student population.
Image: Oakland University Archives
---
1983: The Women of Oakland University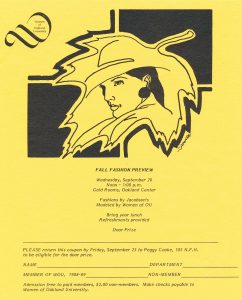 Image source: Women of OU collection, Oakland University Archives
The Women of Oakland University became an organization to replace the University Women's Club.
The by-laws of the organization were sent out with the first newsletter. They read in part "The purpose of Women of Oakland shall be 1) to promote a spirit of community among women associated with Oakland University, and 2) to provide service to Oakland University. These purposes shall be effected by offering educational, cultural, service and social opportunities to members of the organization."
Members paid dues and were able to become part of smaller subcommittees. These smaller "interest groups" put on events of their own, ranging from aerobics, baby-sitting exchanges, book exchanges, crafts, sports, and forums for women's issues. All meetings for the organization were held at Meadow Brook Hall.
---
2004: LGBTQIA Employee Resource Group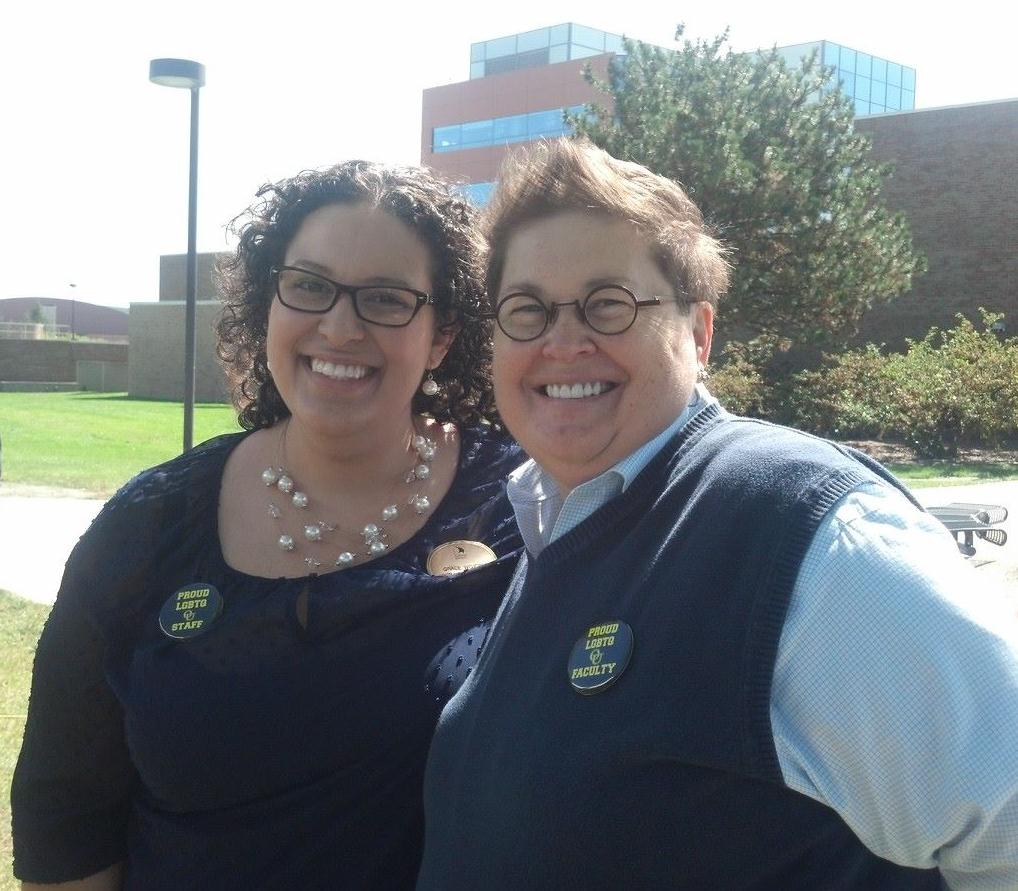 OU employees establish the Lesbian, Gay, Bisexual, Transgender, Queer, Intersex,  and Ally Employee Resource Group (
LGBTQIA
).  The group's mission is to "
to foster an inclusive, open campus community, and to advance equality for lesbian, gay, bisexual, transgender, queer/questioning, intersex and allied people.
"  LGBTQIA  notes that its mission also "support[s] 
the diversity and full inclusion and achievements of [the OU] student body."
Image: LGBTQIA Employee Resource Group
---
2012: OU Female Engineering Faculty

For fall 2012, the  American Society for Engineering Education ranks Oakland University 4th in the country for percentage of women tenure-track/ tenured faculty in engineering. See "
Engineering by the Numbers
" (p.30).
Image: WISE@OU
---
Photos courtesy of the Oakland University Archives.