Diversity at OU: 1960s
1960: Association of Women Students
Image: Oakland University Archives
The University forms an on-campus organization for women students: the Association of Women Students (1). This association is briefly mentioned in the
October 14, 1960 Academic Senate meeting minutes
.
1. Oakland Observer, Oct. 21, 1960, p.3, v.2: no.2.
---
1962: Associated Women Students of Michigan State University Oakland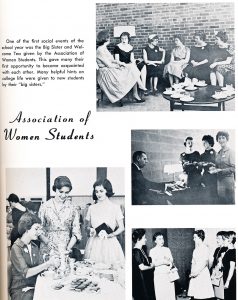 Image source: 1961 Student Yearbook "Oak Leaves"
Students formed the Associated Women Students of Michigan State University Oakland. The group aimed to "provide a spirit of unity among women students… to promote high standards academically and socially, to represent women students in matters of university interest, to work cooperatively with faculty, students, and other organizations toward the continued development of the university, and to help develop qualities of leadership and responsibility among women students." All women students at OU would be members of the association. There would be no membership dues and the organization would operate on the University activities budget. By April of 1962, the Associated Women Students were a part of the Intercollegiate Association of Women Students. Some members of the organization were even able to travel across the state to an IAWS conference to meet other similar organizations.
---
1962: First OU Enrollment Statistics by Gender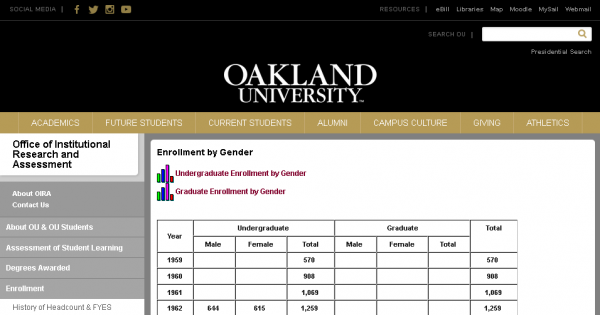 OU starts reporting
student enrollment by gender
.  According to the Office of Institutional Research and Assessment, a total of 1, 259 students enrolled in the Fall 1962 semester: 615 women and 644 men.
Image: "Enrollment by Gender", Office of Institutional Research and Assessment
---
1965: Diversity and Inclusiveness Leadership: Dr. Manuel H. Pierson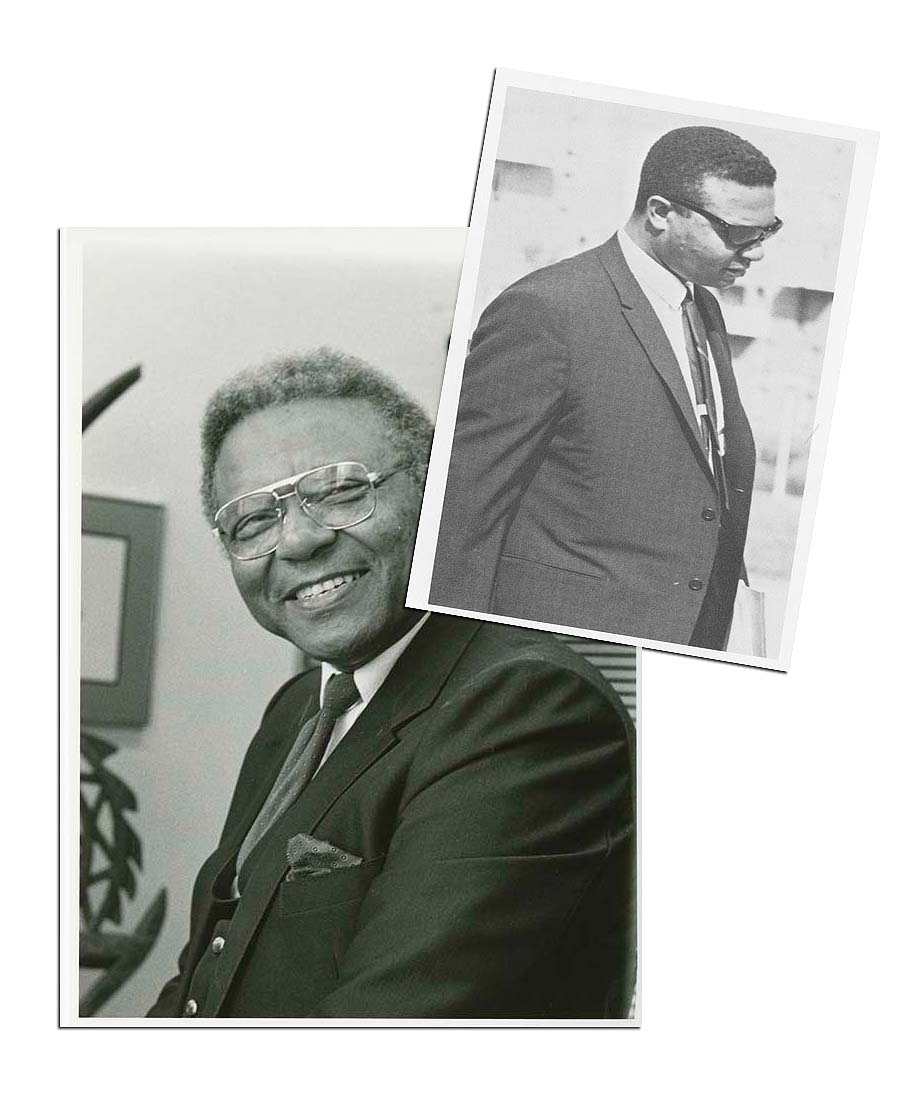 A founding father of OU diversity efforts, Dr. Manuel H. Pierson begins a 28 year mission to promote diversity and equal opportunity for students, staff, and faculty. During his tenures as Associate Dean of Students and Director of Special Projects, Associate Dean of Student Services, and Assistant Vice President, Dr. Pierson leads many diversity and equal opportunity initiatives, including Upward Bound and Project 20.
Dr. Pierson dies on February 13, 2006.  The University holds a memorial on March 16th.  His colleagues and friends recall his achievements during the 14th Annual Keeper of the Dream Banquet at OU.  Dr Pierson's pioneering spirit lives on in Oakland's continuing mission of diversity and inclusiveness.
Image: Oakland University Archives
---
1965: First OU African American graduate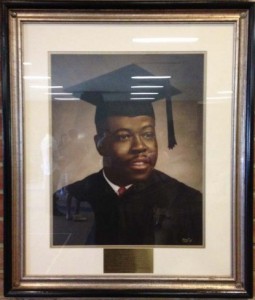 Isaac Jones is the first African American  graduate at OU. He received a BA in Sociology. In 1968, Jones is fatally shot. OU creates a scholarship in his name (see
Chancellor Varner's speech for dignity and justice for all
and 1968 Isaac Jones Memorial Scholarship entry below).
 Image:  Photo of Isaac Jones portrait in Oakland Center. Photographer: Johnnie R. Blunt
---
1965: Pontiac-Oakland Education Assistant Team
Students create POEAT - the Pontiac-Oakland Education Assistant Team - , a project to pair volunteer students with Pontiac school children. 4th, 5th and 6th grade students from Pontiac schools are brought to campus for days of cultural and recreational activities.
---
1966: Project Upward Bound
Project Upward Bound
is founded. A federally funded program, it serves underachieving high school students who have the potential for post high school training. Its mission is to provide academic, social, cultural, and career enrichment that prepares students to succeed in higher education.
---
1967: Project 20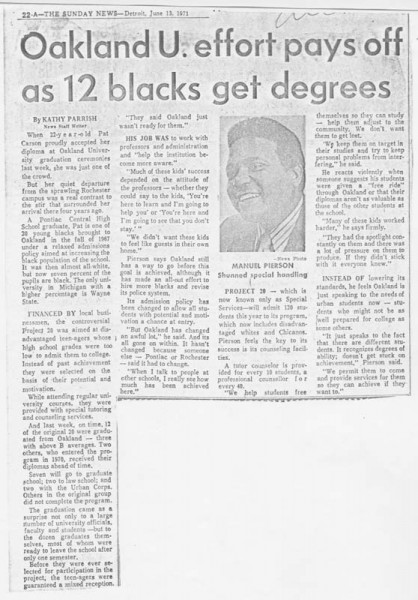 In an effort to create a more ethnically diverse student population, OU admits 20 African American high school graduates under the Project 20 initiative. Funded by local businesses, Project 20 "aim[s] at disadvantaged teenagers whose high school grades [are] too low to admit them to college. Instead of past achievement they [are] selected on the basis of their potential and motivation".  In June 1971, twelve Project 20 students graduate from OU (1).
1. The Sunday News-Detroit, June 13, 1971 p. 22A
Image: Oakland University Archives
---
1968: Association of Black Students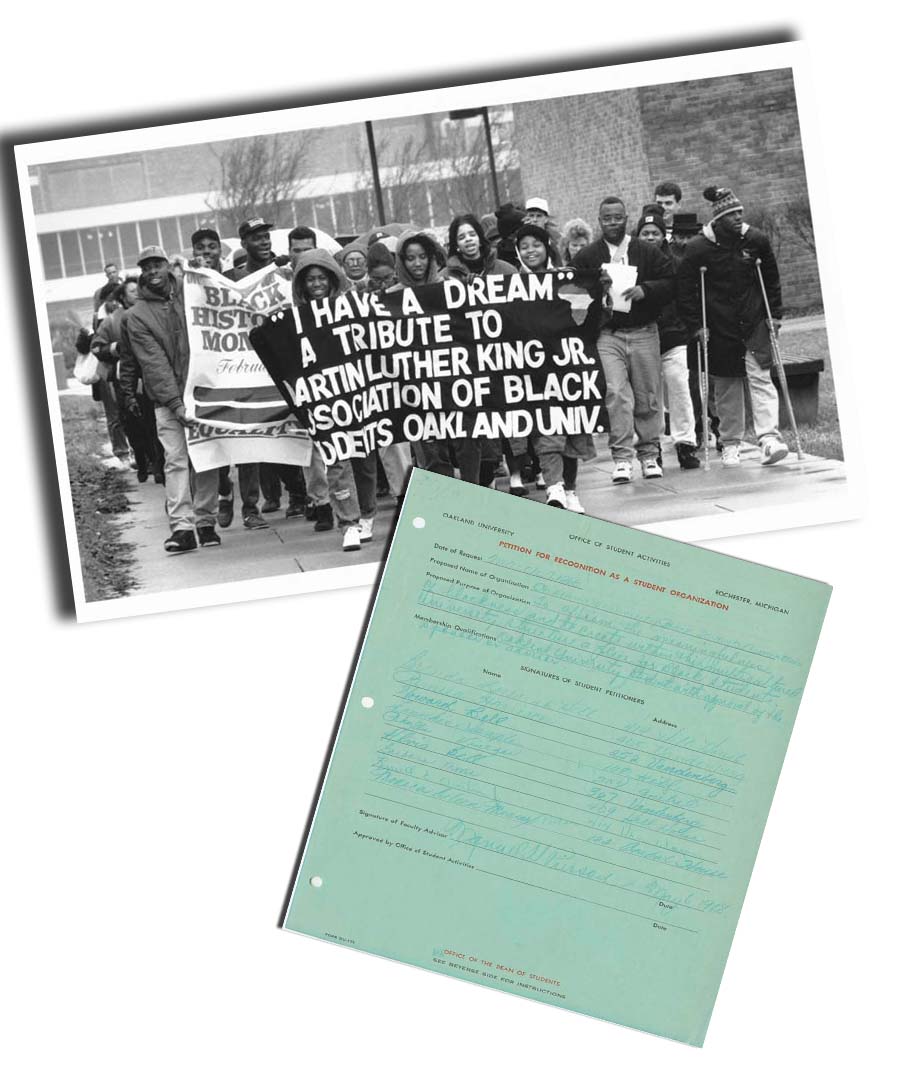 According to a historical survey of Oakland University student organizations from 1959 to 1980, the Association of Black Students was founded in summer 1968 (1). From 1971 to 1973, the organization was renamed Black Liberation Caucus (See 1971 entry for Black Liberation Caucus). Above left: ABS members celebrate Black History Month. Above Right: copy of 1968 petition for recognition as a student organization, signed by initial faculty advisor--Manuel H. Pierson.
1. Waddell, H. (1980). Student Organizations at Oakland University 1959-1980. p.57.
Image: Oakland University Archives
---
1968: First OU Woman Engineer
Ann Auten, a native of Athens, Michigan, is the first female graduate from the OU School of Engineering (1).
1.Lakeland Tribune, August 8, 1968
---
1968: Isaac Jones Memorial Scholarship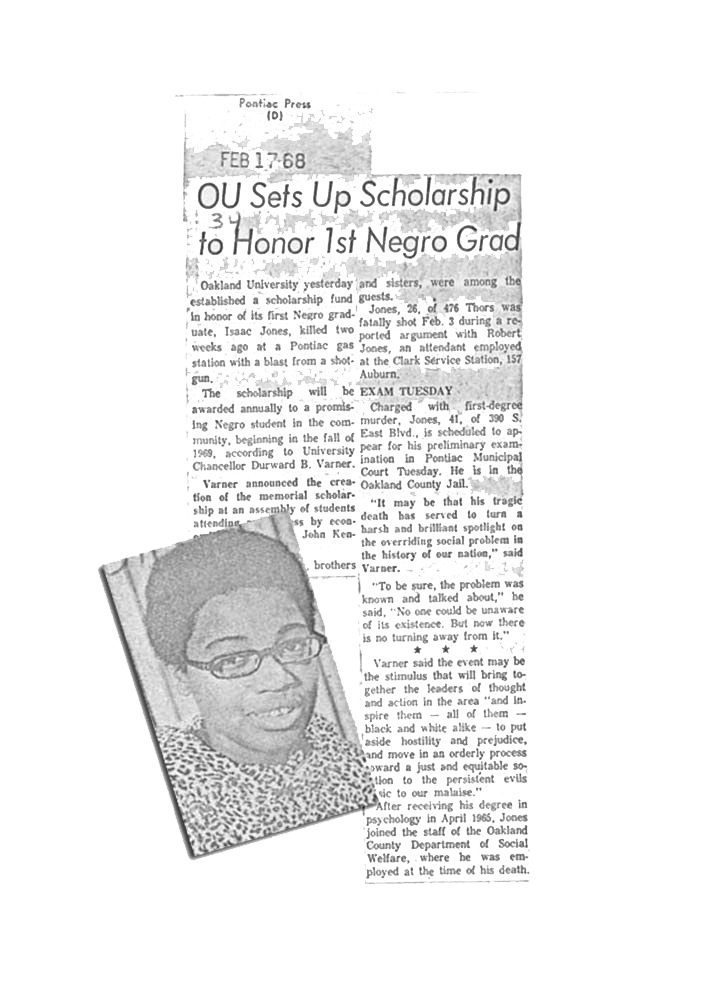 Shortly after the February 3rd murder of Isaac Jones, OU's first African American graduate, the University establishes the Isaac Jones Memorial Scholarship fund.  The  financial aid gift is awarded to promising African American high school graduates from Pontiac, Michigan. Pontiac Central High graduate Cecilia E. Brown (picture above) is the first recipient.
Image: Oakland University Archives
---
1968: Urban Affairs Center
The Urban Affairs Center is established, directed by a new assistant chancellor for urban affairs.
---
1969: Ad Hoc Committee on women's rights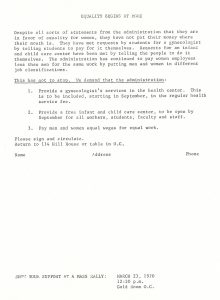 Document source: Women's Rights, Ad Hoc Committee, 1969, vertical file, Oakland University Archives
In 1969, Oakland female faculty created an Ad Hoc Committee to discuss women's rights on campus. Some of the key points they brought up were the need for a university subsidized child care center, gynecological services in the health center, and equal wages for equal work. A survey was completed in December of 1969, revealing statistics about the university population. Out of 301 faculty, only 49 of them were female, and out of 64 marked as professors, only two of them were female.  In addition, while 39% of male faculty members were tenured, only 10% of female faculty were.
---
1969: First OU African-American Celebration Month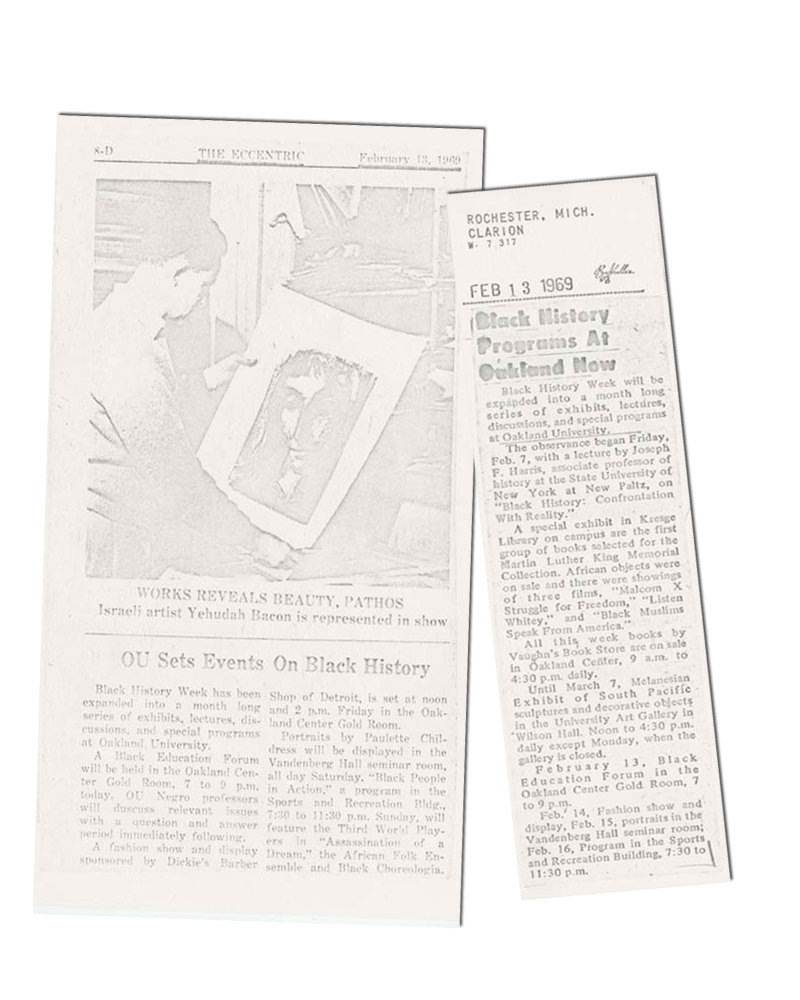 In February 1926, Carter G. Woodson initiates Negro History Week--a recognition of African-Americans' historical contributions (1). By February 1969, Oakland University extends this event to a month-long celebration, seven years before the United States Federal government officially recognizes Black History/ African American Celebration Month (2).
1. Source: Library of Congress, African American History Month: About
2. "OU Sets Events on Black History," news clip from The Eccentric, 13 February 1969
Image: Oakland University Archives
---
1969: Gender Inequality and Women's Rights at OU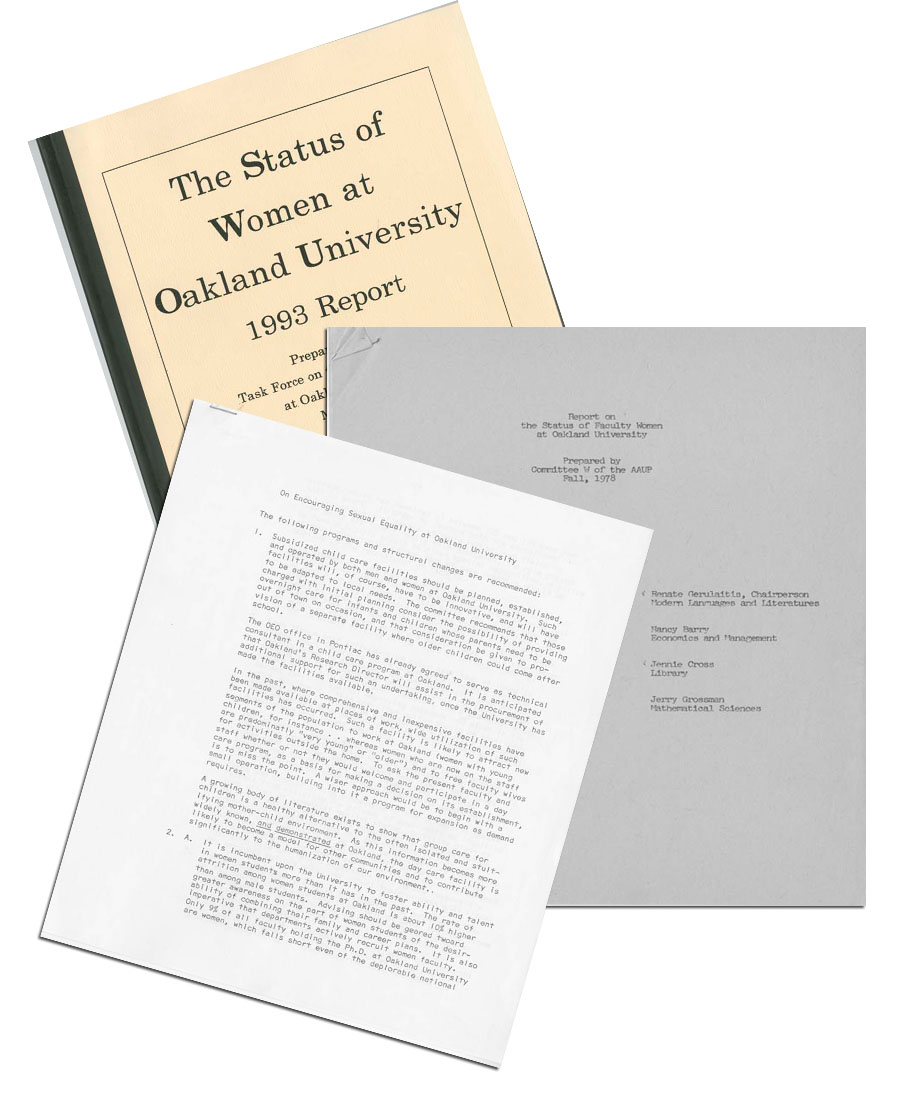 Like its peers, Oakland University has struggled with gender inequality.  During the last half-century, the University has produced numerous reports that analyze pay and promotion gaps between male and female faculty and staff. These reports also describe differential achievement levels and opportunities between male and female students. In 1969, the Women Right's Committee produced "On Encouraging Sexual Equality at Oakland University," a five page document that recommended programmatic and structural changes that would facilitate a more welcoming environment for female students, staff, and faculty.  In 1971, the Oakland chapter of the American Association of University Professors produced "Report of the Status of Women at Oakland". This report was updated in 1978. In 1993, the Task Force on the Status of Women at Oakland University issued its own report. Together, these reports illustrate a history of challenges and successes for women at OU.
Image source: Oakland University Archives
---
Photos courtesy of the Oakland University Archives.