OU Libraries Timeline: students
1959: First OU "For Credit" Classes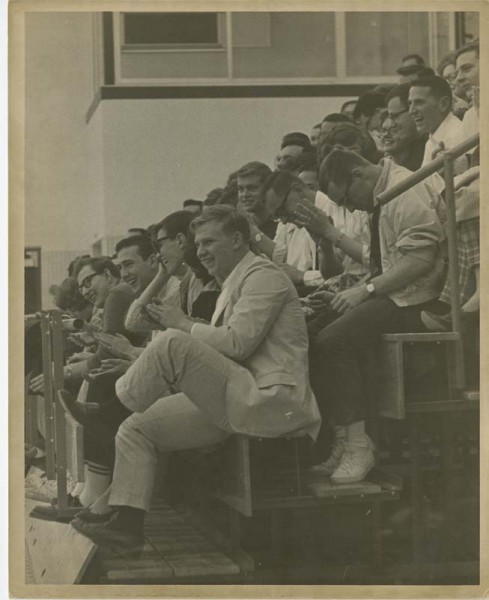 First "for credit" classes begin on September 21
with 570 students (1). Race and gender
statistics
are unavailable for this group.
Image: Oakland University Archives
1. In July 1958, OU offers non-credit continuous education class in a converted chicken coop. See OU Firsts
---
1959: Lynn Anderson Ruth: First OU Student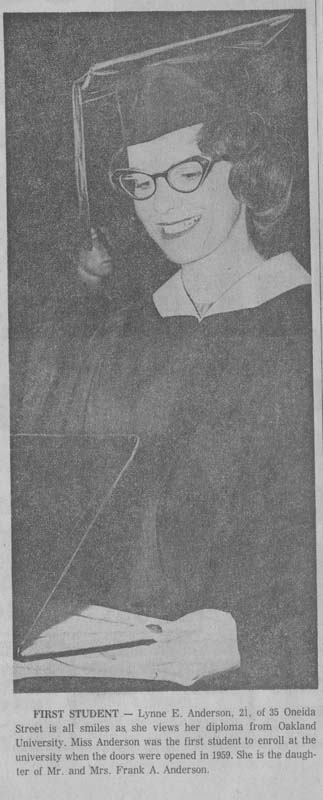 Chosen from a pool of students who finished in the top half of their class, Lynn Anderson Ruth registers for classes at Michigan State University - Oakland and receives student number 000001, making history as the
first MSUO student
.
Image: Oakland University Archives
---
1959: OU's First International Students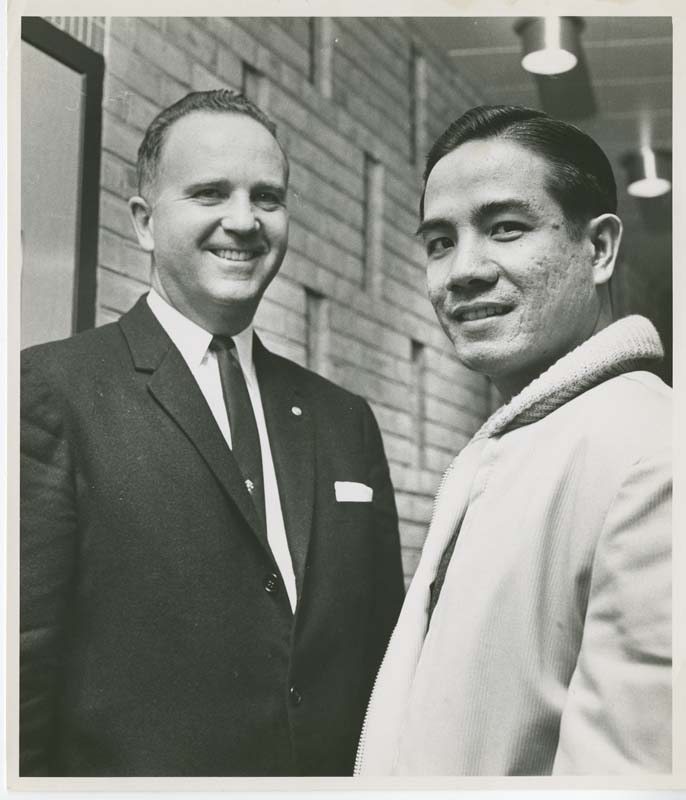 OU enrolls its first international student, Aydin Ilgaz, a 19-year old male from Istanbul, Turkey (1). Dang Xich Lan (above right), a 29 year old from Vietnam, enrolls in January 1960 (2).
1. "MSU-O Has First Foreign Student," The Oakland Observer, 11 December 1959, p. 5.
2. "Vietnam Student Enrolls at MSUO," The Oakland Observer, 29 January 1960, p. 1.
Images: Oakland University Archives
---
1959: Temporary library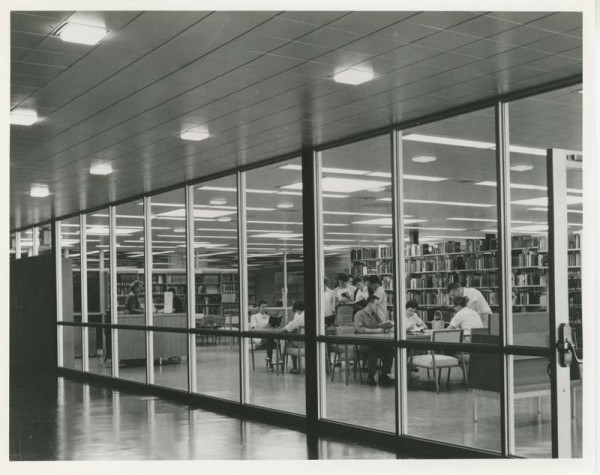 Temporary library quarters were set up at North Foundation Hall. Books were available with 'complete freedom' (no restrictions on number that could be borrowed, no due dates, no fines, and, initially, 24 hour library access). Material was shelved alphabetically to make it available before it was catalogued.
---
1960: Association of Women Students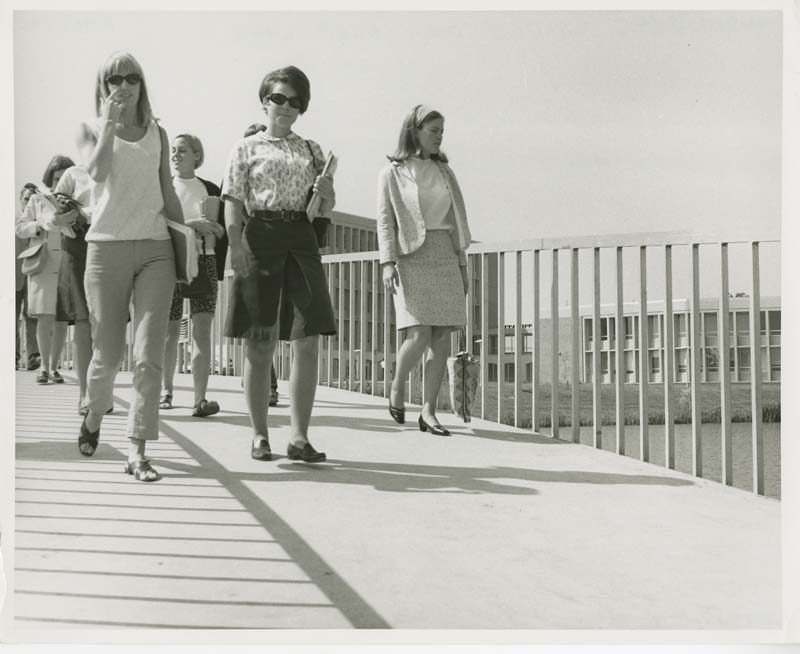 The University forms an on-campus organization for women students: the Association of Women Students (1). This association is briefly mentioned in the
October 14, 1960 Academic Senate meeting minutes
.
1. Oakland Observer, Oct. 21, 1960, p.3, v.2: no.2.
Image: Oakland University Archives
---
1961: Kresge Library Opens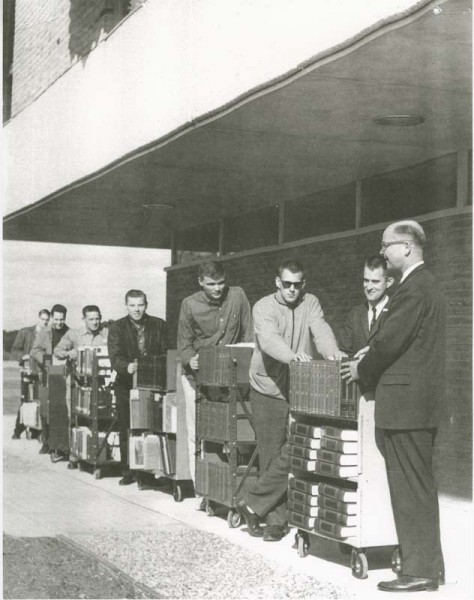 October 27, 1961: Library contents moved from North Foundation Hall to the new Kresge Library building. Students helped by pushing books on book trucks over from the former library at North Foundation Hall, and by loading and unloading books. All materials were moved in three and a half hours. The building was officially dedicated the following spring. View the program for the dedication.
---
1962: First OU Enrollment Statistics by Gender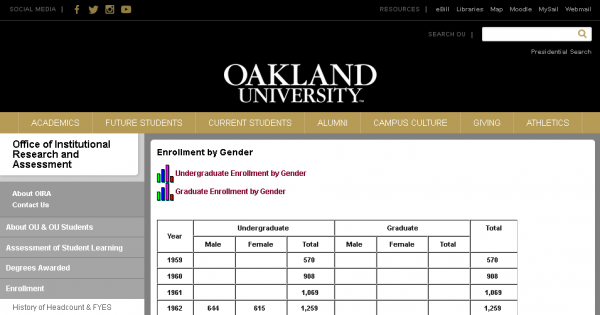 OU starts reporting
student enrollment by gender
. According to the Office of Institutional Research and Assessment, a total of 1, 259 students enrolled in the Fall 1962 semester: 615 women and 644 men.
Image: "Enrollment by Gender", Office of Institutional Research and Assessment
---
1965: First OU African American graduate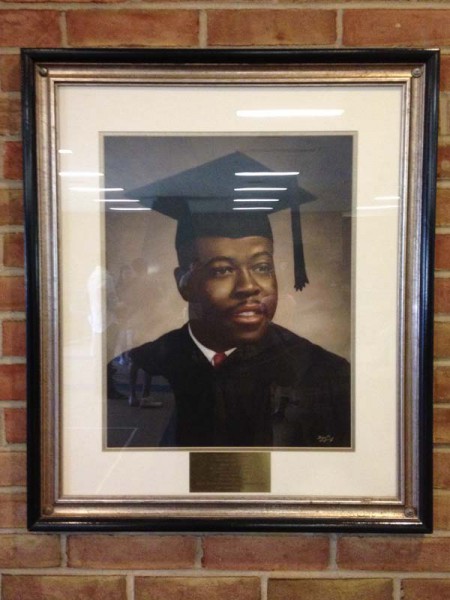 Isaac Jones is the first African American graduate at OU. He receives a BA in Sociology. In 1968, Jones is fatally shot.OU creates a scholarship in his name (see
Chancellor Varner's speech for dignity and justice for all
and 1968 Isaac Jones Memorial Scholarship entry below).
Image: Photo of Isaac Jones portrait in Oakland Center. Photographer: Johnnie R. Blunt
---
1965: Library learning
A library information test was taken by 1,000 Oakland University students during orientation week. As a result, 230 students signed up for a short course to prepare them for learning at the library, which was taught two days a week for three weeks.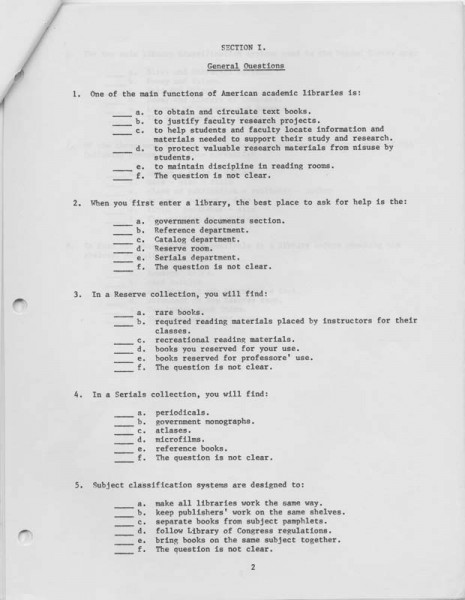 ---
1965: Student library committee
The Student Library Committee of the Kresge Library began operation.
---
1967: Project 20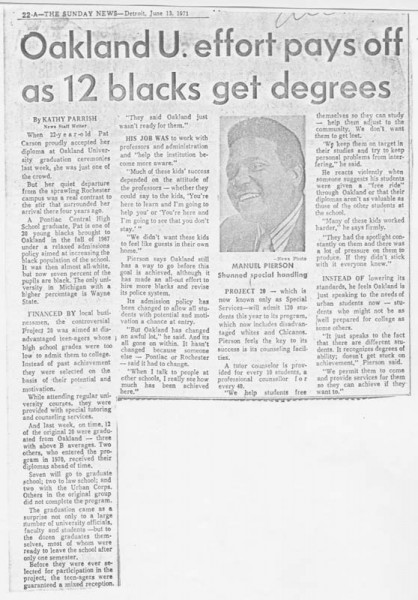 In an effort to create a more ethnically diverse student population, OU admits 20 African American high school graduates under the Project 20 initiative. Funded by local businesses, Project 20 "aim[s] at dis-advantaged teen-agers whose high school grades [are] too low to admit them to college. Instead of past achievement they [are] selected on the basis of their potential and motivation". In June 1971, twelve Project 20 students graduate from OU (1).
1. The Sunday News-Detroit, June 13, 1971 p. 22A
Image: Oakland University Archives
---
1968: Association of Black Students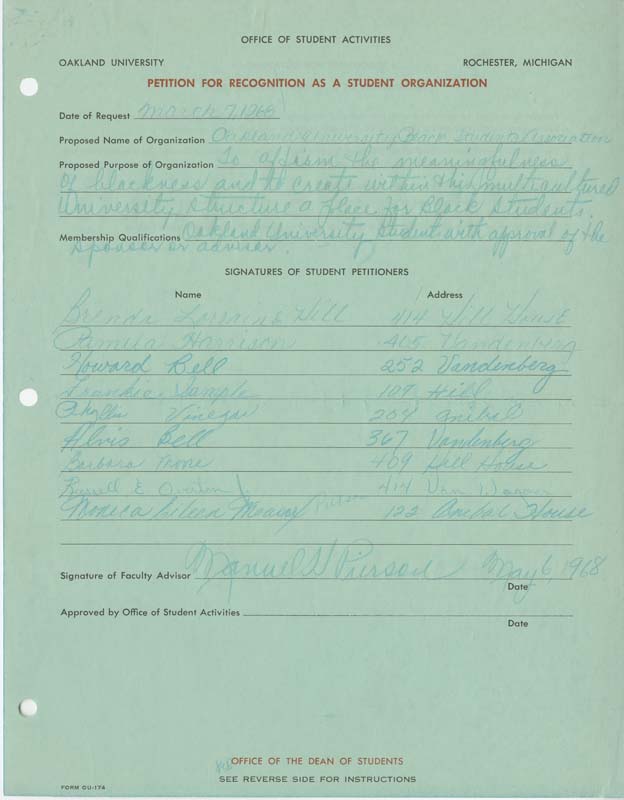 According to a historical survey of Oakland University student organizations from 1959 to 1980, Association of Black Students was founded in summer 1968 (1). From 1971 to 1973, the organization was renamed Black Liberation Caucus (See 1971 entry for Black Liberation Caucus). Above is the original petition for recognition as a student organization, signed by Manuel H. Pierson.
1. Waddell, H. (1980). Student Organizations at Oakland University 1959-1980. p.57.

Image: Oakland University Archives
---
1968: First OU Woman Engineer
Ann Auten, a native of Athens, Michigan, is the first female graduate from the OU School of Engineering (1).

1.Lakeland Tribune, August 8, 1968
---
1968: Isaac Jones Memorial Scholarship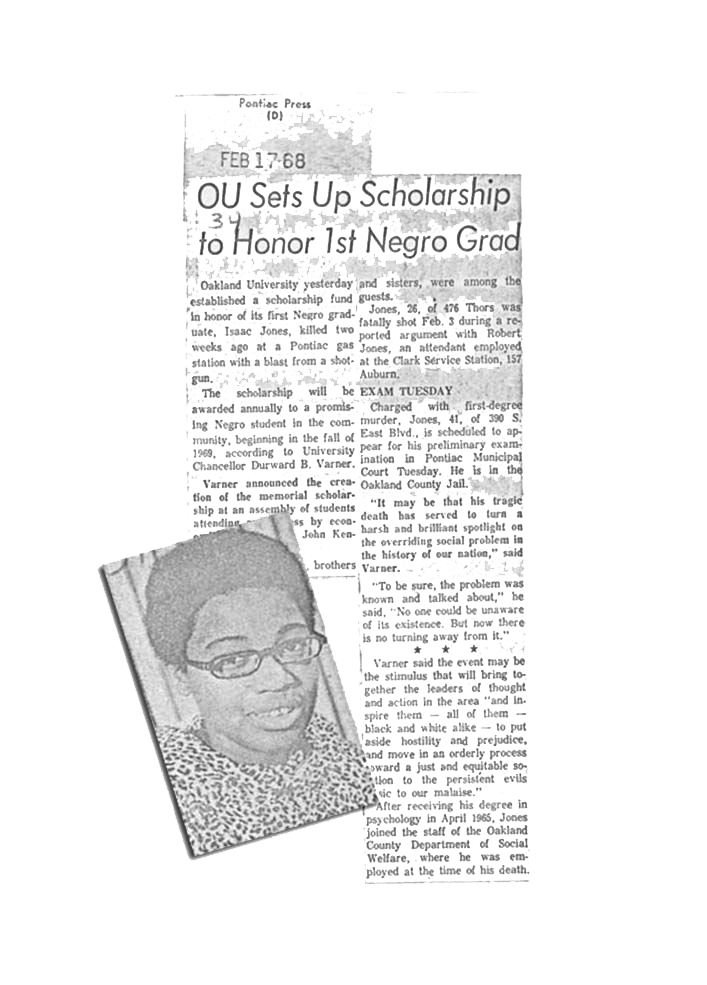 Shortly after the February 3rd murder of Isaac Jones, OU's first African American graduate, the University establishes the Isaac Jones Memorial Scholarship fund. The financial aid gift is awarded to promising African American high school graduates from Pontiac, Michigan. Pontiac Central High graduate Cecilia E. Brown (picture above) is the first recipient.

Image: Oakland University Archivess
---
1968: Matilda R. Wilson fund established
The Matilda R. Wilson Memorial Fund for the purchase of reference and bibliographic works was established by the students of Oakland University. Students agreed to a slight increase in fees in order to support the library's reference collection.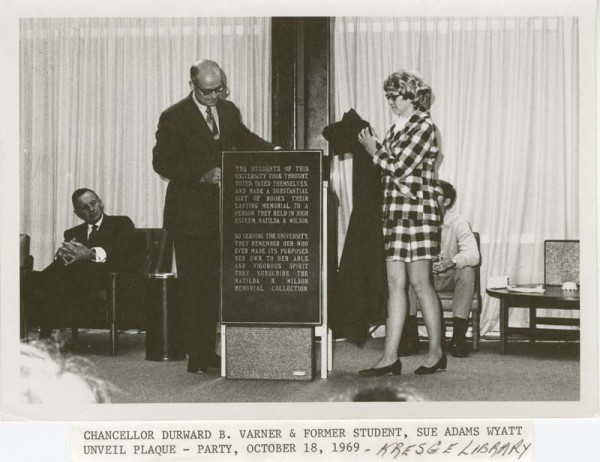 ---
1969: Gender Inequality and Women's Rights at OU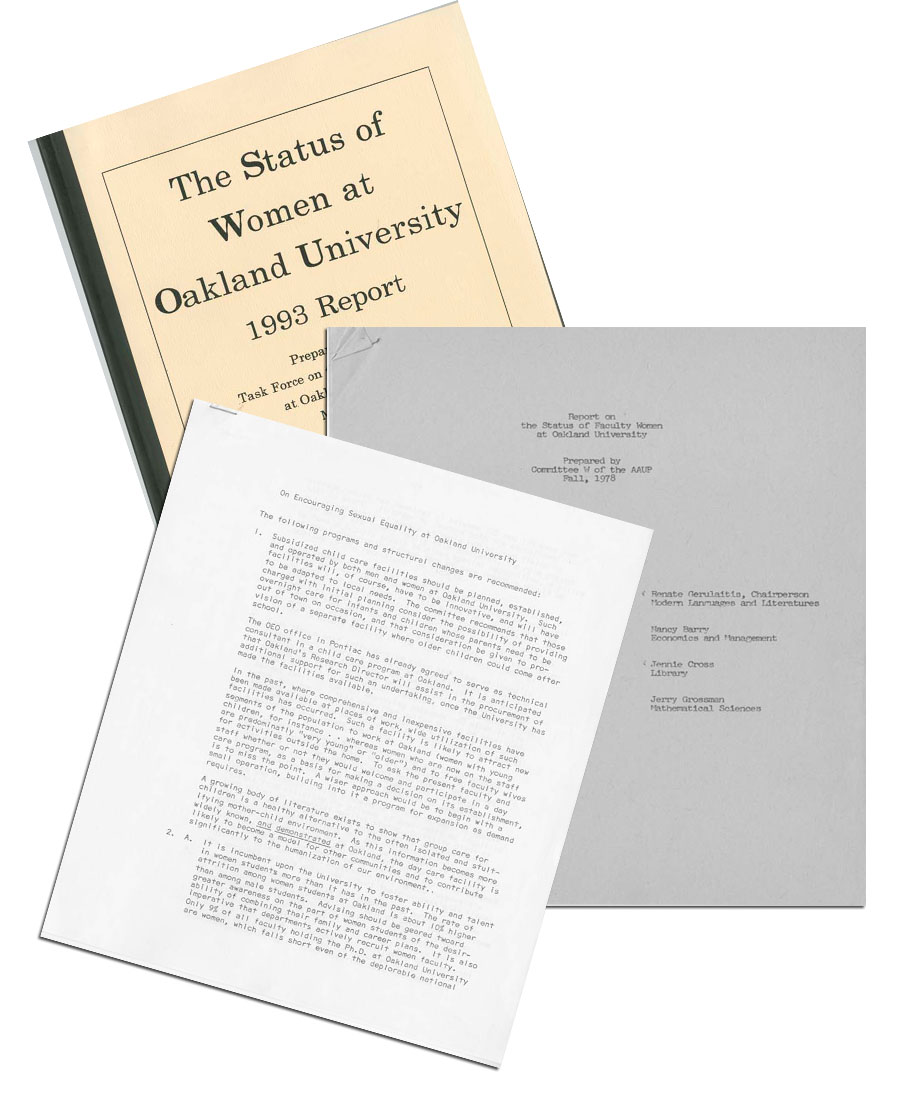 Like its peers, Oakland University has struggled with gender inequality. During the last half-century, the University has produced numerous reports that analyze pay and promotion gaps between male and female faculty and staff. These reports also describe differential achievement levels and opportunities between male and female students.
In 1969, the Women Right's Committee produced "On Encouraging Sexual Equality at Oakland University," a five page document that recommended programmatic and structural changes that would facilitate a more welcoming environment for female students, staff, and faculty. In 1971, the Oakland chapter of the American Association of University Professors produced "Report of the Status of Women at Oakland". This report was updated in 1978. In 1993, the Task Force on the Status of Women at Oakland University issued its own report. Together, these reports illustrate a history of challenges and successes for women at OU.
Image: Oakland University Archives
---
1970: Student protest
A group of students, protesting university policies on gender issues, environmental concerns, and military recruitment on campus, took approximately 2500 books from the library and held them at the Oakland Center as a way of attracting attention to their causes.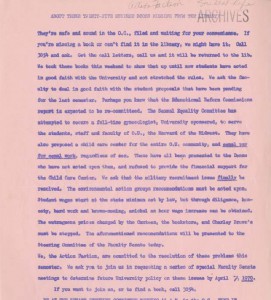 ---
1971: Black Liberation Caucus
In January, the Black Liberation Caucus is founded. According to the March 15, 1971 edition of OU, an official university newsletter, BLC replaces the Association of Black Students, as the "formal" organization for OU African American students. The article notes that BLC views itself as a "political organization linked with a world-wide liberation movement". In its general policy statement, BLC offers the following political stance:

The Black Liberation Caucus is dedicated to the liberation of black people and is guided by the principles of black revolutionary nationalism and pan-Africanism. We are committed to a struggle against racism, capitalism, and imperialism both in the U.S. and internationally, especially on the African continent.

According to a James D. Graham essay, "The Revolution Was Not Televised: Perspectives from the Banks of Beer Lake, 1969-1975,"(1) by 1974 BLC morphed into the "more inclusive" student organization: the Association of Black Students. However, a petition for recognition as a student organization indicates that ABS existed since early 1968. (See 1968 entry for Association of Black Students).

(1) OU Journal, Issue No. 7, Fall 2004

Image: Oakland University Archives
---
1971: OU La Raza Day
Oakland University Latin-American staff and students, in conjunction with the Admissions Office, sponsors the university's first "La Raza Day". La Raza Day is a campus visitation program, culturally oriented to Latino high school students. The goal of the program is to "promote cultural awareness and to explore the opportunities and facilities available in higher education for...Latino student[s]". The second annual La Raza Day is briefly mentioned in the April 18, 1972 Oakland University Newsletter.

Image: The Hispanic Outreach Program
---
1981: Black Profiles Booklet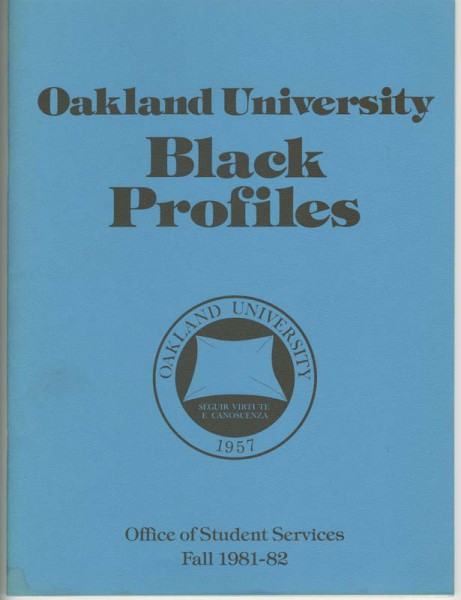 Dean of Students Manuel H. Pierson approves the production of "Oakland University Black Profiles," a booklet of OU African American student leaders, faculty, and staff. Distributed on October 27, 1981, this publication was compiled to facilitate solidarity and academic success within the OU African American student population.

Image: Oakland University Archives
---
1985: Term paper clinic
The library offered a 'Term Paper Clinic' (half-hour one-on-one meetings with a librarian) to assist undergraduates with their research and writing.
---
1988: Hispanic Heritage Month
On September 15th, Hispanic Heritage Week is expanded to a month long celebration (see information on the Center for Multicultural Initiatives website). A dance performance from the 2012 OU Hispanic Heritage Month is featured above.

Image: Hispanic Celebration Month
---
1990: Mission: Unity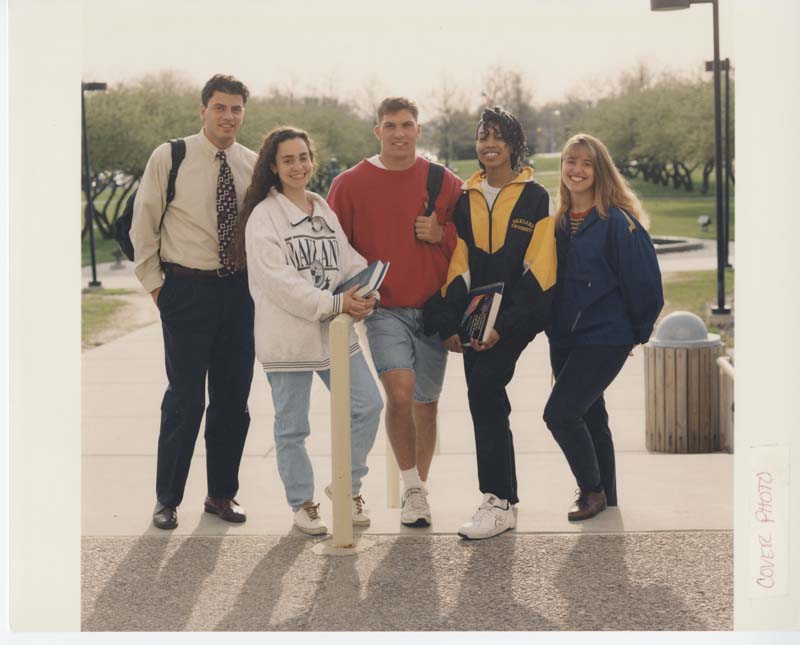 Mission: Unity, consisting of students, staff, faculty, and alumni, is formed to facilitate cross-cultural discussions about race. Marc Allen Payne, a senior, is its founding president. The organization is later renamed Cross-roads. (11 July 1990 Board of Trustees minutes).

Image: Oakland University Archives
---
1992: Origins of the Center for Multicultural Initiatives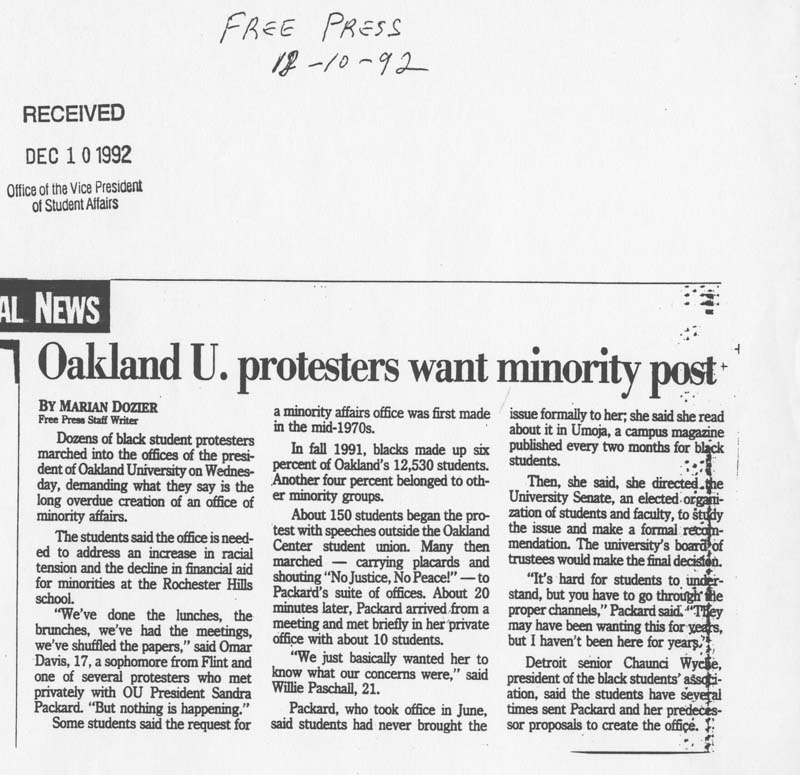 Approximately 150 African-American students conduct a sit-in at President Sandra Packard's office, in protest of lack of an office for minority affairs. This action results in the creation of an Office for Minority Equity a year later. Glenn McIntosh is appointed Director In January 1994 (OU Senate Minutes, January 13, 1994). OME is later renamed the Center for Multicultural Initiatives.

Image: Oakland University Archives
---
1993: Keeper of the Dream Scholarship Award
In January, the OU Center for Multicultural Initiative establishes the Keeper of the Dream Scholarship Award. In honor of Dr. Martin Luther King, Jr., several scholarships are awarded annually to OU students "who have contributed to interracial understanding and good will".

Image: Andrew Young, Keynote Speaker, 2006 Keeper of the Dream Scholarship Banquet
---
1993: Office of Inclusion and Intercultural Initiatives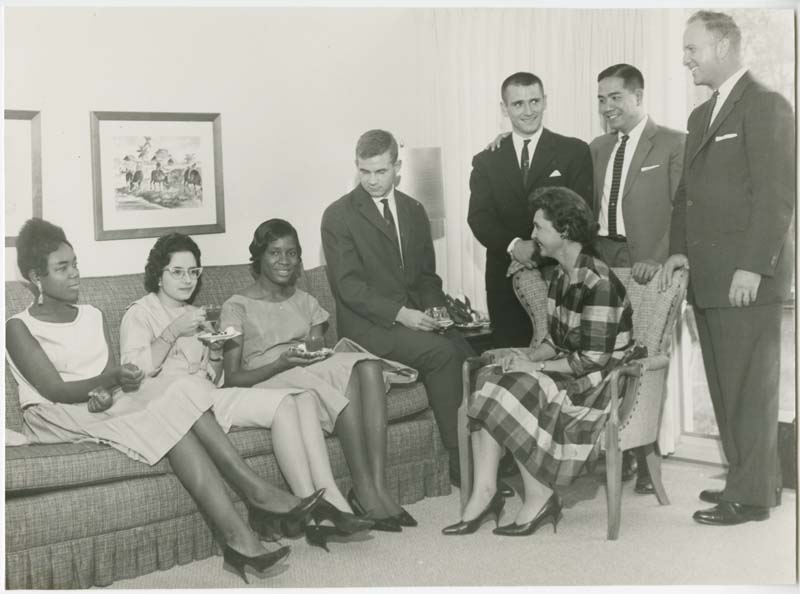 Originally housed within the Office for Minority Equity, the Office of Inclusion and Intercultural Initiatives "serves as a resource and is charged with promoting and furthering the university's commitment to the principles of diversity inclusion and equal opportunity." The Office is linked to several diversity and inclusion initiatives: Presidential Diversity Award, Employee Resource Groups (ERG), and ADVANCE: WISE@OU.
The above picture features several international students from an early 1960s "foreign student tea." From left to right: Angelique Sherman (Liberia), Mary Finkelstein (Cuba), Elizabeth Davis (Liberia), Wolfe Metzger (Austria). Director of Admissions Herbert Stoutenburg (standing, far right) and Mrs. Stoutenburg (seated, far right) host the group.
Image: Oakland University Archives
---
2003: SAFE Program for OU LGBTQIA Community
S.A.F.E. (Students, Administration, and Faculty for Equality) is established. According to the October 23, 2003 campus news release, SAFE is "a new organization committed to providing an open and supportive environment for the lesbian, gay, bisexual and transgender (LGBT) campus community. Program participants, or "allies," are available for assistance and also help challenge homophobia, heterosexism and other forms of discrimination".

Image: SAFE
---
2011: CMI C.O.R.E. Summer Bridge Program
A diversity initiative headed by the Center for Multicultural Initiatives, Collectively Oakland Retains Everyone (C.O.R.E.) Summer Bridge Program is a free, week-long residential experience on campus, designed to help new students bridge the gap between high school and college, while building relationships and honing academic skills. The Bridge Program is the first step in helping first year working-class and other minority students succeed at Oakland University. After the Summer Bridge Program, CORE students meet with mentors weekly to facilitate academic progress. They are also required to live on campus during their first year.

Image: CORE
---
2013: OU Minority Enrollment 2013
The OU Office of Institutional Research and Assessment reports a minority student population of 4,012 in its Fall 2013 headcount. This represents roughly 21% of the total student population. This number does not include possible minorities among the 1,013 unreported students.
African American = 1, 768
Asian/Pacific Islander =1,010
Hispanic = 528
Native American = 188
Foreign Nationality = 486
For more information, please consult Office of Institutional Research and Assessment Student Profile.
---
2013: Women as Majority of OU Student Population
According to the OU Office of Institutional Research and Assessment, 20,169 students enrolled in the fall 2013 semester. Approximately 66% are women. This percentage seems to reflect gender enrollment statistics compiled by the National Center for Educational Statistics.
Undergraduate students
Male: 6,820
Female: 9,774
Graduate students
Male: 1,412
Female: 2,163
Image: OU

Women medical students
---
Photos courtesy of the Oakland University Archives.