OU Libraries Timeline: minority students
1967: Project 20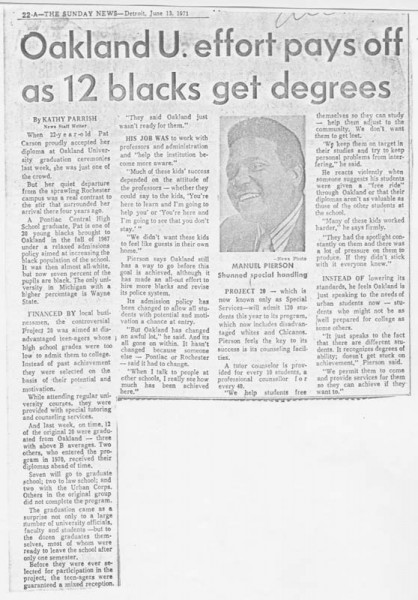 In an effort to create a more ethnically diverse student population, OU admits 20 African American high school graduates under the Project 20 initiative. Funded by local businesses, Project 20 "aim[s] at dis-advantaged teen-agers whose high school grades [are] too low to admit them to college. Instead of past achievement they [are] selected on the basis of their potential and motivation". In June 1971, twelve Project 20 students graduate from OU (1).
1. The Sunday News-Detroit, June 13, 1971 p. 22A
See timeline of ...
1970: International Students and Scholars
In July, the International Students and Scholars Office is established. As noted on its
website
, ISSO " is committed to building an international campus through service, support and advocacy to nurture global citizenship and multicultural appreciation."
Image: OU International Students and Scholars Office
See timeline of ...
2003: SAFE Program for OU LGBTQIA Community
S.A.F.E. (Students, Administration, and Faculty for Equality) is established. According to the
October 23, 2003 campus news release
, SAFE is "a new organization committed to providing an open and supportive environment for the lesbian, gay, bisexual and transgender (LGBT) campus community. Program participants, or "allies," are available for assistance and also help challenge homophobia, heterosexism and other forms of discrimination".
Image: SAFE
See timeline of ...
2006: Asian-American Celebration
From January 30 to February 3, OU holds its first
Asian-American Celebration
to recognize the uniqueness of cultures that "fall within the boundaries of Asia," including Russia, Pakistan, India, and Afghanistan.
See timeline of ...
2011: CMI C.O.R.E. Summer Bridge Program
A diversity initiative headed by the Center for Multicultural Initiatives, Collectively Oakland Retains Everyone (C.O.R.E.)
Summer Bridge Program
is a free, week-long residential experience on campus, designed to help new students bridge the gap between high school and college, while building relationships and honing academic skills. The Bridge Program is the first step in helping first year working-class and other minority students succeed at Oakland University. After the Summer Bridge Program, CORE students meet with mentors weekly to facilitate academic progress. They are also required to live on campus during their first year.
Image: CORE
See timeline of ...
2013: OU Minority Enrollment 2013
OU Office of Institutional Research and Assessment reports minority student population of 4,012 in its fall 2013 headcount. This represents roughly 21% of the total student population. This number does not include possible minorities among the 1,013 unreported students.
African American = 1, 768
Asian/Pacific Islander =1,010
Hispanic = 528
Native American = 188
Foreign Nationality = 486
For more information, please consult Office of Institutional Research and Assessment
Student Profile
.
See timeline of ...

Photos courtesy of the Oakland University Archives.