OU Libraries Timeline: faculty
1959: First OU "For Credit" Classes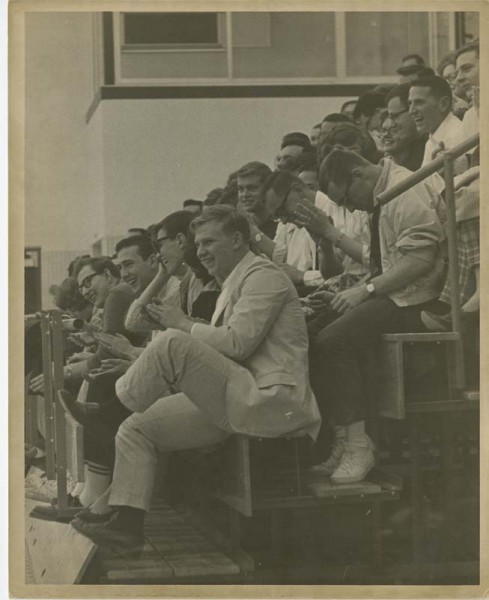 First "for credit" classes begin on September 21
with 570 students (1). Race and gender
statistics
are unavailable for this group.
Image: OU Kresge Library Archives
1. In July 1958, OU offers non-credit continuous education class in a converted chicken coop. See OU Firsts
1974: Afro-American Studies Program
OU starts the Afro-American Studies Program, a concentration to "help students see the history, life, and culture of Afro-Americans from the perspectives of several different academic disciplines . In the memo below, Professor De Witt S. Sykes explains that program, which requires 28 credits, is suitable to a wide range of students. Afro-Americans Studies (later combined with African Studies Program and renamed African and African American Studies) is currently a minor concentration in the I
nternational Studies Program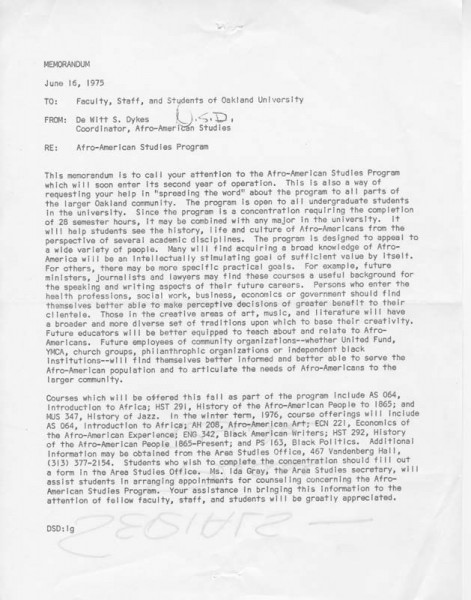 .
Image: OU Kresge Library Archives
See timeline of ...
1981: Black Profiles Booklet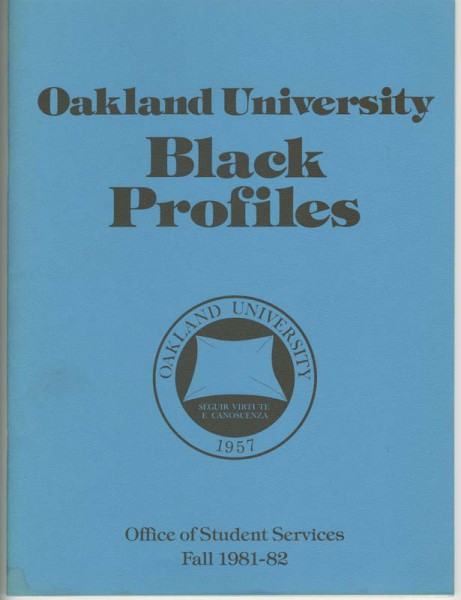 Dean of Students, Manuel H. Pierson, approves the production of "Oakland University Black Profiles," a booklet of OU African American student leaders, faculty, and staff. Distributed on October 27, 1981, this publication was compiled to facilitate solidarity and academic success within the OU African American student population.
Image: OU Kresge Library Archives
See timeline of ...
1990: Mission: Unity
Mission: Unity
,
consisting of students, staff, and alumni, was formed to discuss racial issues. Marc Allen Payne, a senior, was its founding president. The organization was later renamed Cross-roads. (
11 July 1990 Board of Trustees minutes
).
See timeline of ...
2004: LGBTQIA Employee Resource Group
OU employees establish Lesbian, Gay, Bisexual, Transgender, Queer, Intersex, and Ally Employee Resource Group (
LGBTQIA
). The group's mission is to "
to foster an inclusive, open campus community, and to advance equality for lesbian, gay, bisexual, transgender, queer/questioning, intersex and allied people.
" LGBTQIA notes that its mission also "support[s]
the diversity and full inclusion and achievements of [the OU] student body."
Image: LGBTQIA Employee Resource Group
See timeline of ...
2012: OU Female Engineering Faculty
OU ranks 4th in the country for percentage of women tenure-track/ tenured faculty in engineering. See American for Society of Engineering Education "
Engineering by the Numbers
" (p.30).
Image: WISE@OU

Photos courtesy of the Oakland University Archives.